It's time for the gents to frame their faces with self-assurance and show off their individuality like never before. Eyewear trends have taken an intriguing turn in the dynamic world of fashion, providing men with a plethora of chic options to spruce up their appearance.
This article will lead you through the most cutting-edge trends in eyewear, whether you're a style-forward trendsetter or a traditional gentleman with an appreciation for timeless elegance.
Glasses are now more than just a practical means of correcting one's vision; they are now a fashion accessory. They've evolved into a way to show one's style, a bold accent that may instantly elevate one's look. If you're interested in contemporary eyewear—from the subtle and understated to the striking and daring—you've come to the perfect spot.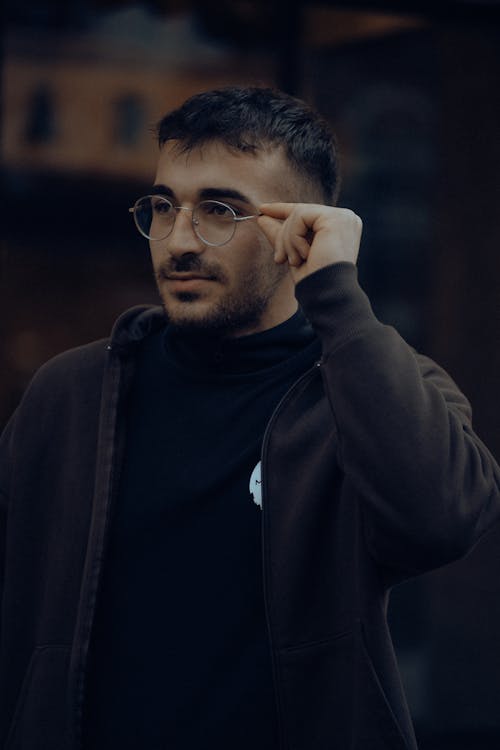 This article will delve deeply into the dynamic world of eyewear trends and styles to keep you abreast of what's new and how it can work for you. We'll reveal the most popular men's eyewear trends, whether you like to follow the lead of famous people or strike out on your own.
We'll go over a wide variety of eyewear designs, from classics like aviators and wayfarers to cutting-edge innovations that challenge the status quo. We have what you need whether you're after a formal style for the office, a cool and contemporary look for everyday wear, or a fun and risky conversation starter.
Are Glasses In Style For Men?
Men who wear glasses are right on trend. Stylish eyewear may do wonders for a man's appearance. Now, glasses are more than just a practical necessity for seeing clearly; they're also a style accessory and a means of self-expression. There are many fashionable options for men when it comes to eyeglasses, whether they require prescription lenses or not.
Frames for men's eyeglasses may be found in a broad variety of sizes, shapes, materials, and colours, allowing them to choose the perfect match for their face, skin tone, and sense of style. The possibilities range from the more traditional, timeless types like aviators and wayfarers, to the more daring, modern silhouettes.
Popular eyewear designs for males include translucent or clear frames, metal frames, retro-inspired designs, and large or geometric shapes.
In addition, the increasing acceptance of eyeglasses as a valid component of a man's wardrobe has led to numerous fashion houses and eyewear designers teaming up to create collaborations and collections aimed squarely at the male market.
In this way, glasses can help you achieve a variety of different looks, from the polished and professional to the hip and fashionable.
What Style Of Glasses Are In Now For Men?
Below are some trend styles of glasses for men:
Retro-inspired Frames: Vintage-inspired eyewear has made a strong comeback, with styles like round or square-shaped frames reminiscent of the '60s and '70s. Think bold acetate frames with thick rims and keyhole bridges, offering a distinct retro appeal.
Clear Or Transparent Frames
Transparent frames have gained popularity among men looking for a minimalist and modern aesthetic. Clear acetate or lightweight plastic frames offer a subtle yet stylish look that can easily complement any outfit.
Metal Frames
Sleek and sophisticated, metal frames continue to be a classic choice for many men. Whether it's a timeless aviator style or a modern geometric design, metal frames provide a refined and polished look that suits various face shapes.
Bold And Chunky Frames
The big and hefty frames are a great option for those who wish to draw attention to themselves with their choice of eyewear. Your eyewear can have a bit more personality if the frames are made of thick acetate and include one-of-a-kind colours or patterns. This allows you to exhibit your distinctive sense of fashion.
Browline Frames
Browline frames, characterized by a bold upper frame that mimics the appearance of eyebrows, have regained popularity. They offer a blend of vintage and contemporary aesthetics, making them a versatile choice for men looking for a refined yet trendy look.
Keep in mind that these are just broad guidelines; ultimately, your tastes will determine which eyewear works best for you. When shopping for glasses that will make you feel good about yourself, it's crucial to think about things like your face shape, skin tone, and daily routine.
Why Do Guys Think Glasses Are Attractive?
Attractiveness is something that is perceived differently by different people. While some men may not find glasses attractive, there are a few who could.
Intelligence And Sophistication
Wearing glasses has traditionally been understood to denote a person's high level of intelligence and sophistication. They have the potential to create the appearance of a person who is well-read, informed, and intellectually oriented. These characteristics may, in the eyes of certain people, constitute an attractive and appealing package.
Fashion Statement
Glasses have evolved into a fashion accessory that enables individuals to express their particular style and enhance their overall appearance. This has led to an increase in the popularity of glasses.
Some guys feel that women who wear glasses are more beautiful than women who don't because they like the modern or stylish aspect that spectacles may give a person's face. The proper pair of frames may bring out the best in your facial characteristics, draw attention to your eyes, and give you an air of personality.
Unique And Quirky Appeal
The wearing of glasses can also impart a person with an air of eccentricity and one-of-a-kindness to their overall appearance. Some people are drawn to the unique and one-of-a-kind atmosphere that can be created by spectacles. They see the wearing of spectacles to be an opportunity for a person to distinguish themselves and demonstrate their uniqueness.
Accentuating Facial Features
The eyes, which are frequently regarded as one of the most appealing parts of a person's face, can be brought to the forefront of attention thanks to the use of glasses.
The frames may frame the eyes, drawing more attention to them and making them more fascinating. This concentration on the eyes has the potential to produce an effect that is both appealing and fascinating.
Bear in mind that attraction is highly individual, so what one person finds appealing may not be what another finds attractive at all. The attractiveness of spectacles, in the end, will depend on the wearer, as preferences and aesthetic judgements vary widely.
Conclusion
These days, men's eyewear is more than simply a need; it's also a statement piece. One person may find spectacles unattractive while another finds them quite appealing. Nonetheless, there are several reasons why some men find spectacles to be attractive.
It's common knowledge that people who wear glasses are more likely to be considered intelligent and well-read. Moreover, glasses permit people to create a fashion statement, enabling them to both express their individuality and improve their image.
Some people find glasses appealing because of the unique and eccentric style they exude, helping them to stand out from the crowd. In addition, the right pair of glasses can draw attention to your eyes, a feature that is universally regarded as appealing.
In the end, what one person thinks appealing may not be what another finds attractive. Whether or if you think glasses appealing is a matter of personal preference and taste. Glasses, which provide practical and aesthetic advantages, have quickly become a popular accessory for guys.